Larry Sanchez is in music & entertainment. He's been the long running sound tech for the Grammy Award Winning, Poncho Sanchez. Plus he has a well known local band, The L.A. MOB AllStar Band. Larry is beloved and highly sought after in the industry as a sound technician, musician and all around brother and dependable friend you can always count on. First one in, the last one out!

This past Christmas, Larry was the VICTIM of a terrible CRIMINAL ACT. The work truck was STOLEN containing, SOUND EQUIPMENT, PA GEAR, MIXERS, AMPS, MIC"S, SPEAKERS, CABLES and STANDS to mention a few things stolen. All of these are TOOLS of his TRADE. If that wasn't enough, he also lost his personal MUSIACAL INSTRUMENTS!!!!

We all have had something lost or taken from us and you know how terrible it makes you feel every time you think about it. I know, Right! It's so hard to get it back and replace it. So in the spirit of giving, friendship and love.

Will you 'SHOW YOUR LOVE' by joining us for the Larry Sanchez Benefit Fundraiser. Jan 15th @ Club Sash- Guest House in Norwalk Ca. Doors open @ 1PM. I'm depending on you. NO, Larry's depending on you to tell everybody by spreading the word. Bring your peep's and let's be there for each other. Remember, " there's no Us with out YOU".

Gracias mi gente. paz y amor.
1:00 PM
Club Sash @ The Guest House
12500 Firestone Blvd. Norwalk CA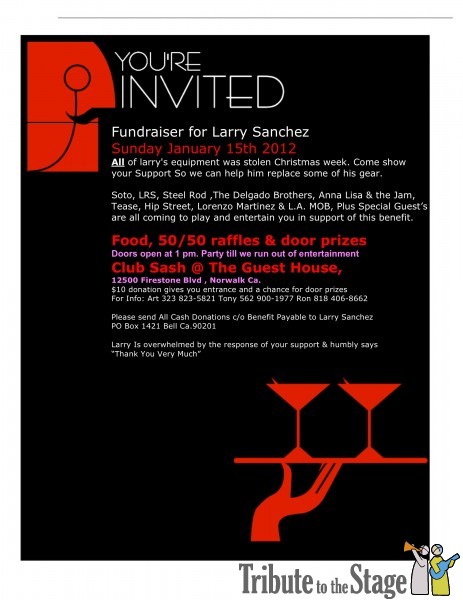 | | |
| --- | --- |
| Event: | Fundraiser for Larry Sanchez |
| Date: | Sunday January 15, 2012 |