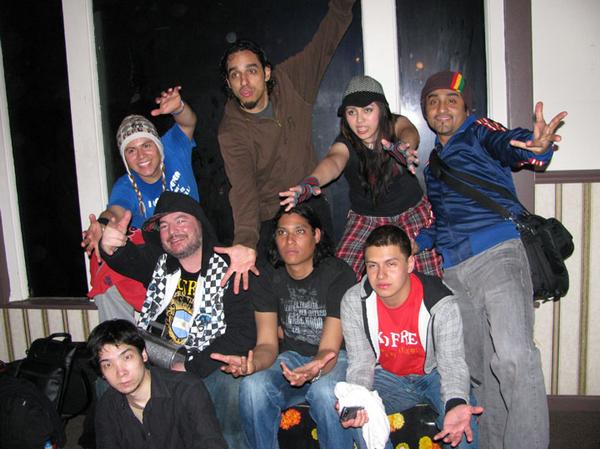 So finally the Riverside ska scene surfaced, at least in my world thanks to my accidental discovery of the Pharaoh's Den. The first time I hit up this little creative art space, I was introduced to the groovin' sounds of Dona Canchis. I enjoyed the event so much, that I was left wanting more.
The second time around, I came prepared with plenty of ammunition to allow me to keep up with the IE youngsters, which simple involved bringing a few bottles of water. The congregation of eager ska lovers, in the small and barren space in downtown Riverside exploded with fury as we watched band after band take the stage into the early hours of Sunday morning.
I've told you guys before, that some of my favorite events are those where I've never seen the bands other than what I see on their myspace or if I'm lucky on youtube. Oh glorious day, when I hit the jackpot on March 20th at the  Pharaoh's Den. Not only did I get to see my newfound friends Dona Canchis once more, but seriously I feel like California's newest lottery winner when New York's Kofre hit the stage. I got through half of the first song, before I rushed out into the lobby to grab a copy of their new CD, Por El Hueco.
Although Kofre demonstrated tremendous skill and range in their musical arrangements the crowd of teens mysteriously dispersed for random moments when the band, like many ska bands, began to play a little cumbia.
I became an instant fan, the moment Kofre's music infiltrated my ears and I get my fix of Por El Hueco at least once a week.