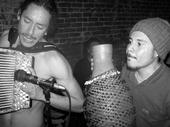 I've been a fan of Colombian cumbia ever since I was introduced to the Los Angeles band Very Be Careful (VBC) over five years ago. I never expected to find another vallenato band with comparable talents to VBC to be honest, at least not at a local level.
Buyepongo blew me away since the first moment I saw them on stage. I wondered where this talented group of young guys had been hiding, as they took ownership of the Senor Fish's stage.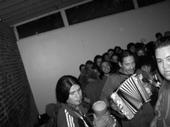 The venue had great hospitality, and the crowd quickly made themselves at home. We waited patiently until the wee hours for the band to begin jamming, but once they started, our heads never stopped bopping and our feet didn't stop dancing.
For more information on Buyepongo and future gigs check out our calendar and/or their myspace page.