Very Be Careful celebrates their 6th studio album, Escape Room, on Barbes Records friday april 9th with the deep and wide diggings of musical archeologist, Coleman, and a Happy Ass Birthday to Peabody!
9:00 PM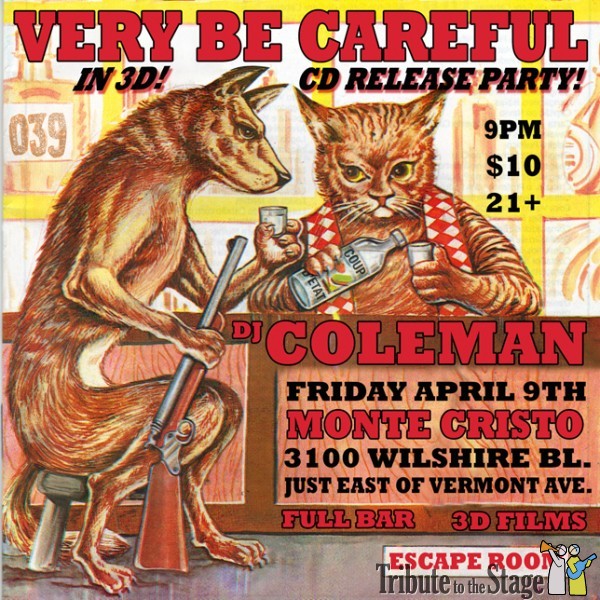 VERY BE CAREFUL
ESCAPE ROOM – Out April 13, 2010 (Barbès Records)
VERY BE CAREFUL, THERE'S NO 'ESCAPE' FROM LA'S VALLENATO AVATARS

Don't call Los Angeles's seminal vallenato band Very Be Careful a "world music" act. The musicians' sound may be seeded in a particular region – the coastal northeast of Colombia, where this accordion-driven folk music has been making pulses race and libidos rise since the 1950s – but what they play is raw and groove-oriented.

As you can hear on the band's new Barbès Records release Escape Room (out April 13), the material is mostly their own (with covers of vintage songs by Calixto Ochoa and Abel Antonio Villa). And their attitude owes more to punk than anything else. The combination makes for trance-like, hypnotic cumbias, Puyas and Paseos from a place no one seems to ever have gone to.

"I guess our parents were party animals," says bassist Arturo Guzman, who co-founded the band in 1998 with his accordion-playing brother Ricardo, joined by Richard Panta on caja vallenata, Craig Martín on guacharaca, and Dante Ruiz on cowbell. "We grew up listening to a lot of cumbia and vallenato." As second-generation Colombian-Americans raised in what is now called Korea Town, the Brothers Guzman came to appreciate their cultural roots through the family's record collection. But they weren't content to stop there.

"My parents were into the '70s stuff when we were growing up," Guzman continues. "As musicians we're exposed to older music in other genres, even if you're talking about rock'n'roll. You know, '80s rock is fine, but check out the '50s and '60s stuff you can't hear on the radio. It's amazing. Discovering older music in other genres made us want to dig deeper into the history of vallenato, too."

Addicted to the music of legendary vallenato composer Alejo Durán (aka "El Negro Grande"), as well as Villa and Ochoa, the group has spent the last dozen years becoming LA's hottest party band. While broadly part of a hemisphere-hopping contagion of cumbia madness, VBC are doing something very specific. Their new album features all original songs, sung in Spanish and played with a formalist devotion. Yet, it's anything but revival music or an ethnographic exercise. When you go to a Very Be Careful show, well … you better be.

"World music?" Guzman says. "The term and everything about it presents Latin music as something safe and proper. But, if you actually go to Africa, you won't see everyone behaving themselves. At a Very Be Careful show, everyone's drunk, everyone's hitting on each other. Yeah, that is exactly what we're doing."

As Guzman told Paste magazine, VBC has little in common with the pop-cultural fusions of fellow Californians like Ozomatli or Santana. It's not about the contemporary vogue for "hybridity."

"[Ours] is a purist style that strives to pay tribute to the classics, and we aim to compose in the same vein. This is a greater achievement for us than dropping in some obscure unrelated beat to the music."

It's all bred in the bone. The Guzman's mother Deicy penned two songs, "La Alergia" and "El Hospital," both strongly representative of the way of vallenato. "Mom, she's always written but she went full tilt when she saw what was going on with us," Guzman says. "There's a lot of metaphors. If she writes a song about a squirrel, it's not really about a squirrel. She writes about animals a lot, and working class people." Likewise symbolic are the album's title, Escape Room, and the 3D image of a rifle-toting fox and a bartending cat on the CD cover. But symbolic of what? It's open to interpretation.

"Many vallenato songs deal with love and death," Guzman explains, "two things that are hard to put meaning to. Our songs on Escape Room are in line with the poetry of these concepts. There is even a song called "The Time Traveler," which is obviously not about getting into a time machine but rather about growing up and questioning what you are told or what is real. Love rears its head into almost every song. Death is there too."

The band's heritage pulls on a wide geographical base, filtered through the prism of Los Angeles. "Our grandparents' culture is Tejano, Mexican, Peruvian, Puerto Rican, and Colombian," Guzman says. "We all grew up in California so I guess do the math. Growing up in sunny Cali with the laid-back vibe. It's no mystery why we play Caribbean music and live the lifestyle we do."

Familiarity with Spanish or the mixed racial currents that fed the vallenato are not necessary to grasp its essence. Some of Very Be Careful's biggest fans live in Japan, where it tours often. And the group's sound has been embraced by pop-culture lightning rods like Kronos Quartet and Vampire Weekend, which has hired the outfit as its opening act. At home, in the funky, fun-loving neighborhood of Echo Park, the band makes a grand occasion for sin. "One show this summer both the accordion player and the cowbell player ended up crowd surfing while we were still playing, that was pretty amazing," Guzman says. "Our fans are No. 1 and they're kind of nuts, too. Things get funny sometimes. One time we had a girl fight. You know, at a show, it's always guys fighting? We haven't had guys fighting at our shows. We think it's awesome that there's so many girls at our shows. This time, there were too many girls so there was tension. They were fighting for a spot on the dance floor!"

Yet, don't worry that VBC is a magnet for homogeneity. "We do attract a lot of different people," Guzman says. "Most of our people are between 25 and 35. It's mostly Latinos, at least here in LA, and about half of those are into alternative music and the other half are into having a good time. They're just seeing whatever's good is out there. They're not crazy music collectors or anything. But also we're not trying to isolate ourselves in a strictly Chicano or Latino world. And now we're getting younger people as well, even though we're getting old!"

The fact that VBC can play traditional music for an audience that often knows nothing about that particular tradition is stunning. And none of it is self-conscious. Here's a great band out to make people feel good, one that succeeds pretty much every time.