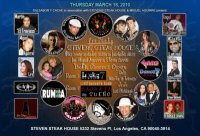 Let's celebrate! Join us for the annual Spirit of Dance Pre-Party at Steven's Steak House! Take this grand opportunity to dance and mingle with instructors and performers scheduled to be at the main event! Let's start this party off right and continue the weekend at the Spirit of Dance Workshop,Shows and Dance!!!
THURSDAY MARCH 18TH
SALSABOR Y CACHE IN ASSOCIATION WITH STEVENS STEAK HOUSE AND MIGUEL AGUIRRE
PRESENTS
THE PRE-PARTY FOR THE SPIRIT OF DANCE
BOTH ROOMS OPEN
ROOM 1 LIVE ON STAGE LUCKY SEVEN!
ROOM 2 LIVE ON STAGE BACHATA EN SUENO L.A'S FIRST BACHATA BAND!
PLAYING THE BEST IN LATIN SOUNDS
DJ MARTIN EL TRAVIESO
DJ LUIS PACHANGA
DJ JO JO
DOORS OPEN AT 8PM
COVER ONLY$10 INCLUDES
SALSA LESSONS WITH MIGUEL AGUIRRE AND BACHATA LESSONS WITH STEVEN CORREA 8PM-9PM
INFO CALL 310 800.4195